Welcome to Shoofly Farm
Located in Oxford, NC and established in 1997, Shoofly Farm is a small sheep farm
where I train Border Collies and raise various breeds of sheep.
My dogs compete in USBCHA sheepdog trials all over the U.S. and Canada.

I offer lessons, clinics and training at the farm and
am available for off-site clinics and judging trials on a limited basis.
We occasionally have USBCHA sanctioned trials at the farm,
as well as clinics with guest clinicians, and fun days.
Contact me at RobinFrench@handlerspost.com for more information.
I am also owner/administrator of the popular sheepdog website HandlersPost.com

2020 Upcoming Events at the Farm


February 29-March 1, Handling/Trial Prep clinic, Robin French
April 10-11 , Training Clinic, Gordon Watt
April 12-13, Lessons with Gordon Watt
November 27-28 , Training Clinic, Gordon Watt
November 29-30, Lessons with Gordon Watt
Some old training, trialing and handling articles.
Please DO NOT distribute without permission!

Choices: Free the Dogs (April 01, 2008)
What Does Your Dog Think Of You (April 08, 2008)

Tone of Voice (April 22, 2008)

Hitting Crossdrive Panels (April 24, 2008)

Corrections (June 10, 2008)



THE CURRENT TEAM OF SHOOFLY DOGS
Imported in September 2016 from Ireland,
Cain was trained and run by Michael Gallagher, both here in the US as well as in the UK. He has been successful on every type of sheep and field, both east and west in the US and Canada (2014 Canadian Champion as well as winning the Kingston SDT), and in the UK. Cain and I have had a wonderful time for three years,competing all across the country, from the east coast to the USBCHA Finals and Meeker Classic in Colorado to the Soldier Hollow Classic in Utah. He continued his winning ways with me, always ranked very high in the USBCHA standings, and has been a pure joy to run and live with. Dogs don't come any sweeter or more talented.
Cain is a very biddable quick dog with a lot of range and natural good flanks and outrun. He does not have a lot of eye and is a dog with a lot of scope to his work. He's good both at hand and out in the big fields, and is an excellent shedding dog. As of this update, Cain is 9.5 years old and his trialing career is winding down (don't tell him that though!).

Imported as a 15 month old in February 2017 from Ireland,
Tink was bred and started by Tierney Graham/Michael Gallagher.
She is a delightful little dog who would do anything to make you happy.
She has never disappointed me in any way. Easy to train, easy to run and
handle on the trial field, Tink would turn herself inside out to do whatever I ask.
She is super biddable and a real "try-er", and currently my top Open dog.
Tink has been a very successful trial dog, placing or winning almost every time she runs.
As of this update, she is ranked 33rd in the country for the 2019-2020 season
with 45.8 Open points, and earned 10 Open placements from August-December 2019.
She has also proven herself to be a very good breeding dog, whelping ten puppies
in November 2018 and doing a beautiful job raising them. Those pups are looking very promising as they begin training and trialing.
| | |
| --- | --- |
| | |
Imported in dam from England, Becca was purchased as a pup from Lori Perry of MI.
She is a tremendously talented little dog, naturally gifted at all aspects of sheep work.
She is calm, thoughtful, and rarely makes a bad decision in her work.
Becca trained up very easily and quickly, and began running in the Open class well before she was two years old. All of this despite forced layoffs while I was laid up and unable to train/work her for many weeks when she was 8-16 months old. She's quite remarkable, one of those who "trained herself". The future is very bright for this one. She is already qualified for the 2020 USBCHA Nursery Finals and gaining points towards qualifying for the Open Finals as well.


Cait is the pup I kept from the Tink x Coup litter and just starting her sheep work.
She's a busy, energetic little dog with a lot of stamina. Time will tell but so far she is training up nicely and coming along well at 15 months old.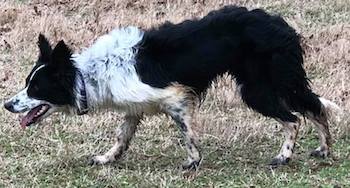 Lad
Birthdate
07/12/2019

Pedigree to come

Imported from Aled Owen in Wales, Lad, the latest addition to the Shoofly pack,
comes with a royal pedigree. Sired by Ricky Hutchinson's Jock, his dam is a daughter of Aled Owen's Cap. Both Jock and Cap are winners of the International in recent years. Additionally, Jock is Becca's sire and half brother to Tink, so Lad is well related to my current Open team.
Lad's a big, sweet, goofy boy. He's been on sheep a couple of times and seems pretty serious about things there, but it's very early days.



************************************************************************************************
Former Shoofly Team Members
The most famous Shoofly Alum, Cowboy has a very important job chasing geese away from
monuments in Washington DC. He was trained for sheep work here and moved on to goose work when he was 3 years old, and has never looked back.
I think he looks like a super hero standing there in his cape at
the Reflecting Pool.


| | | |
| --- | --- | --- |
| | Spot is now owned by Eleanor Peavey in Georgetown, KY. Look for this team on the trial field in 2020! | |
Imported in October 2015 from Ireland,
Spot was trained and run by Seamus Gallagher.
He was 4th in 2014 Irish National and represented Ireland at the 2014 International Supreme.
In 2013, he was 8th on day 1 of the Irish National. Here in the US, Spot had immediate success on the trial field, placing in nearly every trial he ran in, including the large and prestigious 2016 Bluegrass Classic, the Kingston/Grass Creek trials, and Edgeworth. As of 12/1/2016, he is ranked 11th in the country in USBCHA points for the 2016/2017 season.
Spot (formerly known as Spot2 as I had another Spot when he arrived here) is a very biddable, clever dog with no tension. He is sensible and an all around nice dog with no big faults in his work. He does not have a lot of eye and is a dog with a lot of scope to his work. He's good both at hand and out in the big fields, and is an excellent shedding/penning dog.


Zebo

Birthdate

09/08/2014


Pedigree Zebo is now owned by Heather Haynes in WA, where he enjoys lots of farm work and the occasional dog trial.

Introducing Zebo, imported in May 2016 from Ireland as a started dog. He is a son of Spot by a bitch named Roxy, who is a daughter of Robert Ellis' Mirk (Reserve Champion 2012 International Supreme).

Zebo was started in Ireland by Michael Gallagher, and has continued his training here with me. He began his trial career in September 2016 and showed improvement each time out, finishing the year with a win in a large PN class at the FrontRunner SDT. I expect him to really grow in 2017 as he matures and gains experience.
Zebo is a biddable dog and a great "team player". Blessed with his father's naturally good outrun, he is also a sharp flanking dog with good shape and feel for the sheep. He is a good driving dog as well, very direct and with a lot of push and power. He is a very athletic dog, strong bodied with good stamina.


| | | |
| --- | --- | --- |
| | Bernie is now owned by Tara Dier, of Stirling, Ontario and is starting his Open career in early 2020. | |
I was fortunate to have to opportunity to buy this exciting young dog in August of 2015.
Off of Michael Gallagher's Supreme champion Cap by his very successful Flo, Bernie is a very talented dog that will be fun to train up and run. He has a natural outrun and beautiful natural flanks, and is quick and biddable, with a lot of feel and push and line.


Spot1

Bill x Rhyme

Birthdate

03/13/2012


Pedigree


Spot is now owned by Kelly Morrow in Toronto, Canada. Look for this team on the trial field in 2017!
Spot is a consistently good Open trial dog as well as a very useful and steady chore/farm dog. He began running in the Open class at just over 2 years of age, in July 2014. During the 2014 fall trial season, he managed two wins on large courses, at the Front Runner SDT and the Edgeworth Winter SDT. He is a powerful but steady dog, very biddable, direct and precise.


| | |
| --- | --- |
| Spot is now owned by Sandy and Danny Payne in WV. | |
Joe is a son of Zac, out of Rhyme, who is a grandaughter of my old Ben (see below).
Rhyme's dam is a littermate to Jet.


************************************************************************************************
The rest of the pack that have run on ahead...

Bill
07/20/2007-
05/2017


Pedigree




(Bill at 4 months old with a cranky lamb)
Placements in multiple USBCHA Open trials.
2014 Bluegrass Classic Top 20 Double Lift Qualifier
2013 USBCHA National Finals: 6th place in first round of 150 dogs, 24th place in semifinals.
2013 Bluegrass Classic Top 20 Double Lift Qualifier
2012 Slash J Double Lift Reserve Champion
2011 USBCHA National Finals: 21st place in first round of 150 dogs.
2010 USBCHA National Finals: 2nd place in the first round of 150 dogs,
13th place in the semifinals and
8th place in the Double Lift Finals at the 2010 USBCHA National Finals
(Bill's first Finals, 3 year old Nursery dog).

Video of Bill's semifinal run at 2010 USBCHA National Finals
Placements in multiple USBCHA Open trials.
2013 USBCHA Natl Finals: 34th place in the first round of 150 dogs, 21st place in the semifinals.
2010 USBCHA National Finals: 4th place in the first round of 150 dogs.
Reserve Champion of the 2010 Kingston SDT Double Lift Finals.
1st place at 2012 Slash J SDT.

Video of Zac's semifinal run at the 2010 USBCHA National Finals

Gael

Birthdate 10/06/1999

Placements in multiple USBCHA Open trials.

After retiring from my trial team, Gael went on to a very happy life being a spoiled pet with Mary Ann and Steve Thomas in NC. She ruled the roost for several years and passed away March 29, 2013. I'll always miss my "Gaelie" but she had the best of homes and all the love she could ask for.
Jet

Birthdate 04/07/2001

Placements in multiple USBCHA Open trials, including the Bluegrass Classic SDT and Edgeworth Open SDT. Jet retired from my team in 2010 and spent the last 3 years of her life with Kathy and Steve Flynn in MN. She passed away February 20, 2013.
Spottie

Birthdate 11/14/1997

Winner of multiple USBCHA Open trials, Spottie retired from my Open team in 2008 and lived the last years of her life with Kelly Jerman in NC, helping with her small sheep flock. She passed away January 2012.
BelJac Ben

Birthdate 02/19/1996

Ben passed away in the summer of 2008. After retirement from sheepdog trials, Ben moved to Kid Hollow Farm outside of Charlottesville, VA with Pat and Steve Harder. It was a match made in heaven. Ben was in charge of a large flock of Angora goats and helped daily with all the farm chores, as well as maintaining a nice warm spot in the Harder's bed. He went to work with Steve every day and was happy and very well loved.
Belle

Birthdate 06/15/1993

Belle passed away 10/07/2007 at 14 years of age. There will never, ever be another Belle. What a tremendous presence, for so long. I miss her every day. She could always, always make me laugh.
Bailey

Birthdate 08/02/1992

Bailey left us 09/10/2006 at 14 years of age

Bailey was the dog who got me into all of this border collie and sheep stuff and was ultimately responsible for it all. A wonderful, quiet companion with a peaceful presense, she was a lovely introduction into a new phase of life.
This page is owned and was created by Robin French and no images or photos on this page may be used
for any purpose without written permission from the owner.